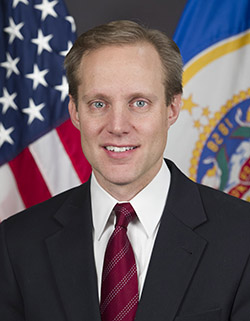 Steve Simon is Minnesota's 22nd Secretary of State. He was sworn into office on January 5, 2015, and as Minnesota's chief elections administrator pledged in his inaugural address to "work with anyone, of any political affiliation, from any part of our state" to protect, defend, and strengthen the right to vote in Minnesota.
As Secretary of State, he partners with township, city, and county officials to organize elections on behalf of Minnesota's nearly four million eligible voters, and to ensure that the election system is fair.
Simon also oversees a wide range of services for Minnesota businesses and administers the "Safe at Home" address confidentiality program for people whose personal safety is at risk, often due to physical abuse or threats.
His goals as Minnesota's Secretary of State are straightforward: expand access to voting, remove barriers to voting, make business services as streamlined as possible, strengthen protections for victims of domestic violence and, most importantly, be a Secretary of State for all Minnesotans.
Before being elected Minnesota's Secretary of State, Simon served in the Minnesota House of Representatives for ten years representing the communities of St. Louis Park and Hopkins.
Simon spent much of his time in the state legislature immersed in elections issues, including serving as the chair of the House Elections Committee in 2013 and 2014. He played a lead role in many of the election reforms that Minnesota has embraced over the last several years, including no-excuse absentee voting, online voter registration, and easier access to voting for Minnesotans overseas, including those in the military.
Simon also served as Assistant Attorney General of Minnesota and worked as a lawyer in private practice for several years. He was named a "Rising Star" four different times by Law & Politics magazine and has received many other recognitions for his work on behalf of Minnesotans, including the "Outstanding Legislator Award" from the Minnesota School Board Association and the "Civic Leadership Award" from the Citizens League.
Simon grew up in St. Louis Park and Hopkins. He graduated with a B.A in Political Science from Tufts University in Massachusetts in 1992, and earned a J.D. from the University of Minnesota Law School in 1996. Simon and his wife Leia live in Hopkins with their two children, Hannah and Noah.