Get a Blue Book!
---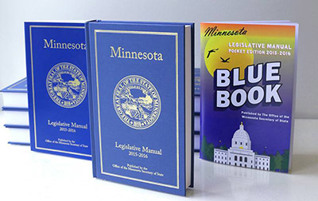 The Minnesota Legislative Manual, also known as the Blue Book, is a comprehensive guide to Minnesota's government, including information on the state legislature, state executive offices, state agencies, and state judiciary; local, federal, and tribal governments; as well as 2014 election results. It is published every two years under the direction of the Secretary of State.
Secretary Simon dedicated the 2015-2016 Blue Book in honor of the 50th anniversary of the Voting Rights Act of 1965 and the Minnesotans who made it a reality.
Throughout this edition of the Blue Book, readers will find information about the Voting Rights Act, the role Minnesotans played in its passage, and historical artifacts, such as news articles, quotes, and published letters from the 1960s.
Blue Book Ordering Information:
To order a copy of the Minnesota Legislative Manual (Blue Book), send a self-addressed, postage-paid envelope...